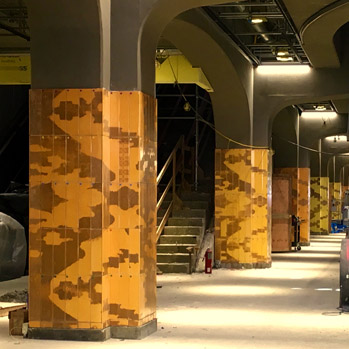 BART : ECSTATIC VOYAGING
ECSTATIC VOYAGING opens in 2019.
Responding to the community desire for their new station to be the "jewel of the valley" the architecturally integrated artwork captures the twenty structural columns of the station. The eight-sided pillars are clad with nearly five thousand, slender handmade ceramic tiles that employ both screen-printing and hand glazing techniques. Ecstatic Voyaging explores the role that ornament plays across cultural histories utilizing a single detail from an ancient Ikat weaving pattern as the primary basis for the overall large pattern. "To tie and to bind" is how the Ikat process is defined. Creating a complex experience of patterns, integrated circuitry designs and jewel like shapes are superimposed as additional patterns that echo the Silicon Valley history. Up close the tactile relief achieved in the glazing process invites the passengers to touch and make associations related to the landscape. The occasional interruption of the flow with brighter tile is a gesture related to patchwork quilts and the tying and binding together of a large community. In choosing to encompass nearly the entire length of the station the piece becomes more of an environment that extends around the broad forms of the pillars. For the passenger standing on the platform, the columns are a tactile invitation where the geometries also become naturalistic map like forms. Both from the train and the long view across the tracks, the logic of the large pattern is visible in a shifting palette of golden, saffron and warm amber tones. Geographically this newest BART Station sits at a pivotal crossroads of the Santa Clara / Silicon Valley and the San Francisco Bay Area.
---
---
---
---
---
---